Numerous countries across the world are suffering due to the ongoing COVID-19 pandemic and millions of lives have been affected by it. The most significant change witnessed in the last few months in working households in urban areas is that a lot of companies have implemented work from home policy.
However, work from home is not the only thing that has changed — a lot of companies have also laid off employees which created a hassle in the industry. Most of the laid-off people have already started looking for a job. The tool that works best during a job hunt is a feature-rich job-hunting site. Finding the best job search engine as per your requirement is also a complicated task as there are a number of job search engines available.
To simplify your task, we have curated a list of 8 best job search engines to connect you with the best opportunities.
8) Glassdoor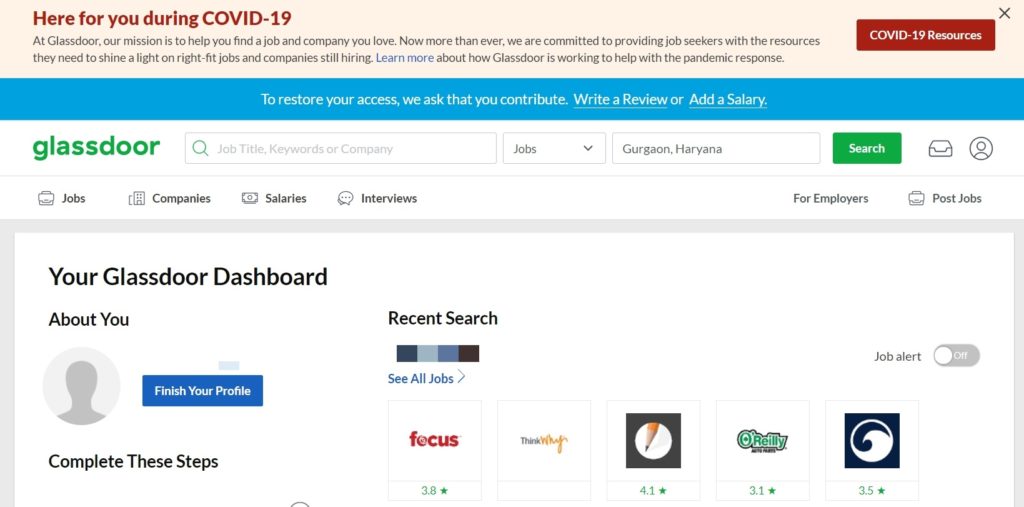 If you are the sort of person who checks reviews before applying to a company, then Glassdoor is the best job search site for you. Glassdoor provides you a keen detail about the company you're going to join, its work culture, and environment. It gives you multiple sign-in options, including Facebook and Gmail.
Glassdoor provides interview preparation questions and other topics that are important in the process. You can also discover salaries and add salary insights into the app. It can be said to be one of the most popular job sites among millennials.
You can rely on the above-mentioned best job search engines to find the most appropriate job for you. It hardly matters which profile you want as these job search engines have multiple options to choose from. Most of the job search engines are free but you can also use the paid services offered by them including resume building, interview preparation, and more.
7) SimplyHired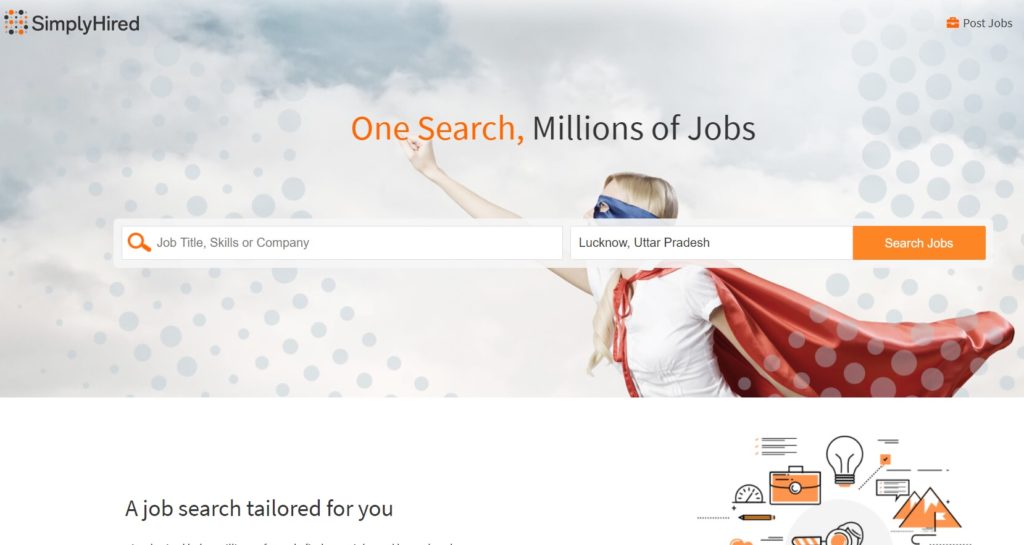 As the name suggests, SimplyHired has a clutter-free and interactive interface along with a local job search feature. The job search engine has a salary estimator tool that shows the salary for a particular profile in a given region. You can browse jobs on the basis of different categories mentioned on the website. You can also click on the Browse All Jobs button to get all the job details.
To apply for the job, you just need to upload your resume on the platform and add your email ID to track the progress. It can be said to be one of the top job sites in the ongoing times.
6) Jobs.com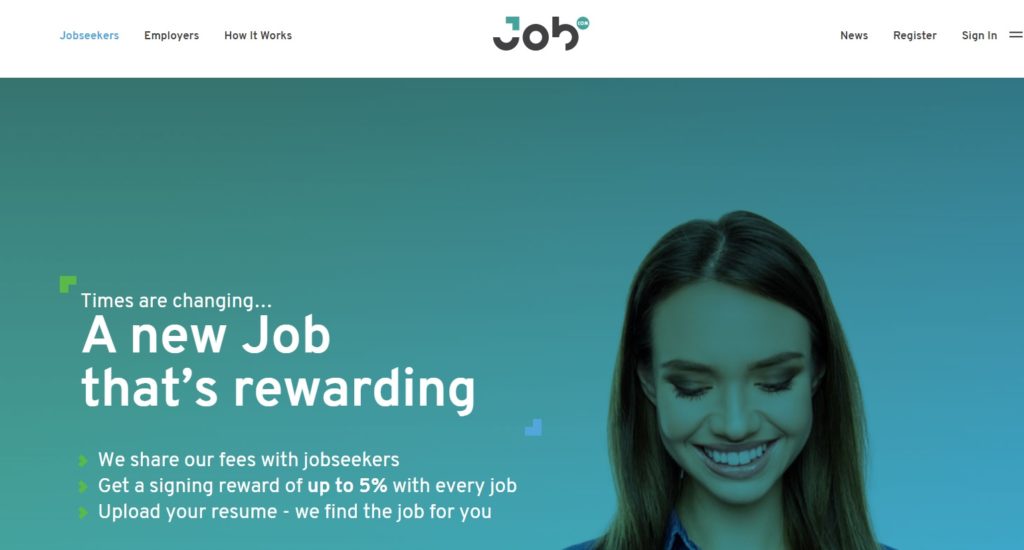 What if you get a top job site that is based on an AI and your efforts are reduced? Well, in that case,

Job.com

is the best option for you. This portal just requires your resume to figure out the best options for you and matches you with the best employers.
This job-hunting site also provides you an opportunity to directly connect with the employers. This will boost your chances of selection by showcasing your skills.
A highlight feature of

Jobs.com

is that it provides a bonus to people who get hired through their site. For example, if you get hired via this service and stay there for more than 90 days in your company, then you will get a reward amount that will be equal to 5% of your salary from

Job.com

.
5) Monster Jobs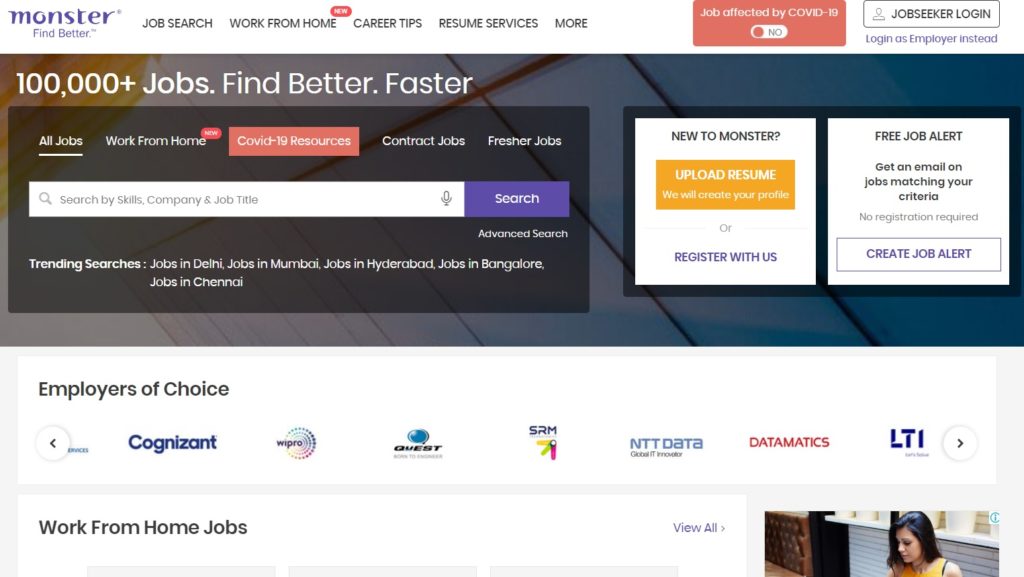 Monster Jobs is among the few job search engines that provide special work from the home section; it has been introduced in consideration of the ongoing pandemic. It also has a different registration page for the people who lost their jobs due to COVID 19 pandemic.
Monster Jobs can be said to be the most interactive job hunting site available on the list. It provides a lot of options to find the exact profile you want to work for.
You can also read the career advice blogs on the platform and can subscribe for a paid resume creation service to make the best out of your resume.
4) Google For Jobs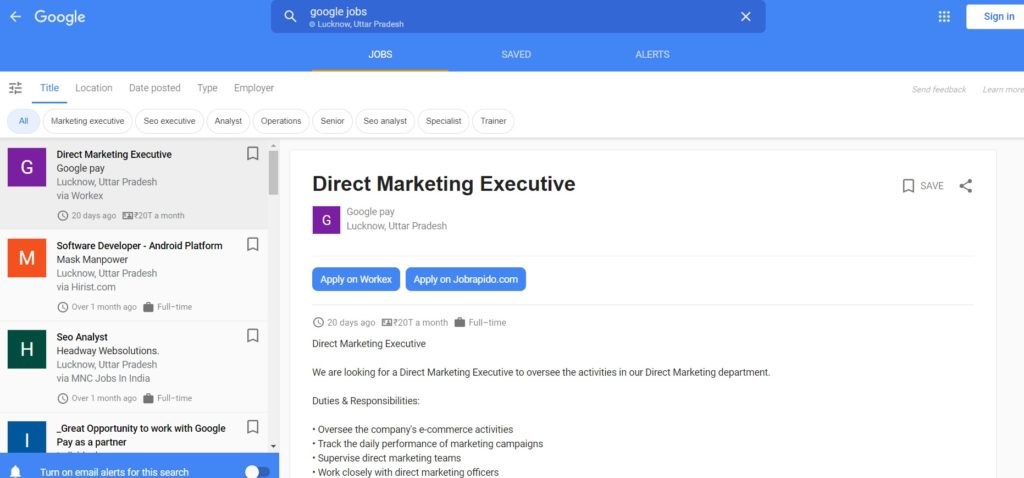 It's an initiative by Google that directly connects you with the main page of a job. Google for Jobs can be said to be the most convenient job search engine ever created. You just need to type the keywords for your job and you will get a listing by Google regarding the job search in a particular region.
Once you open the Google for Jobs page, you can change the title, create alerts, and search as per your location as well. You can also create a job alert for a keyword related to your job or a job profile.
See engines 1-3 and the complete article